Thanks to DJ Questlove (from The Roots and The Tonight Show Starring Jimmy Fallon) who presided over the music for six hours at the Brooklyn Bowl in NYC this weekend to raise money for Hurricane Irma relief on St. John. The fundraiser was open to all ages (seriously, the bouncers were joking they were valet-parking the strollers…) and let me tell you, some six-year-olds can do a mean limbo. And if they didn't appreciate the classic Soul Train videos projected on screen as the dance music played on and on, their parents (or grandparents) surely did. Admission was free with all donations going to St. John Rescue.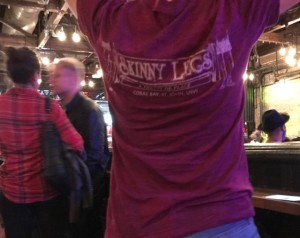 St. John–the smallest of the U.S. Virgin Islands–is a second home to me. Before moving to New York I lived in Coral Bay and waitressed at the famous Skinny Legs. I wrote for the St. John Sun Times from 2004-2011. I have many friends who lost everything when Hurricane Irma decimated their island. They are in desperate need of support in order to survive and rebuild.
If you'd like to help, I suggest making a donation to any of these organizations:
Thank you again to everyone who has expressed concern about and support for this beautiful little island.